Communication: The appointments not to be missed in 2016 !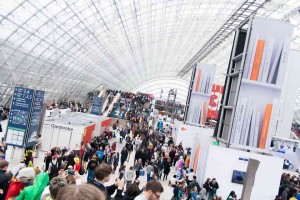 Your presence at this year's fairs and conferences is the best means to stay informed of trends in advertising, image, data or public relations. Below you will find all the meetings for communication 2016.
Spring events
On 17 March, at the Salle Wagram in Paris, "la Nuit des Rois" ("Night of the Kings") will be held. This second edition will recompense the best digital marketing devices.
"Les étoiles de la pub" ("The advertising stars"). This competition for students studying advertising creation takes place on 25 March at the Théâtre Sébastopol in Lille.
On 26 mars, it's the "Journée Agences Ouvertes" (Agencies Open Day). This day, devoted to the promotion and valorisation of the communication profession is for the general public.
On the 12 and 13 April you can attend the «Made in Corporate» event at the international centre of Deauville. This fair will valorise the promotion of innovative solutions and services of corporate communication.
"Heavent meetings sud" will be the gathering place for business tourism and events specialists, and it is to be held at the Palais des festivals et des congrès in Cannes on 13 and 14 April.
"Films and Compagnies" ("Films and firms"), is the international festival of institutional and corporate communication films. It will take place between 17 and 19 May at Palais des Congrès Atlantia in La Baule.
Events for packaging specialists
Packaging specialists also organise fairs and events. Starting in June, the first one, "Pack et Gift" ("Packaging and Gifts") is the essential meeting place for event packaging and merchandising specialists. It will be held at salon de la porte de Versailles in Paris on 15 and 16 June.
Branded and advertising gifts fair
The "Object and communication" fair opens its doors on 12 and 13 September at the Pavillon Gabriel in Paris. At this event you will be able to meet manufacturers displaying their advertising objects destined for business brand promotion.
This year's other events
The festival "Cannes Lion" is the international festival of creation and advertising. It takes place from 18 to 25 June in Cannes.
From 6 to 8 July in La Baule, you can attend the congrès des métiers de l'évènement (Congress of event professions).
The fair of the visual and graphic industries, "Viscom", will be held at the porte de Versailles in Paris from 6 to 8 September.
You can attend Bordeaux's summer university for the communication of sustainable development on the 22 and 23 August.
The global summit of public relation agencies, "Icco Summit", will be held at the Châteauform'city in Paris on 10 and 11 October.
"L'EuropCom conférence" takes place in Brussells on 16 and 17 October. It is the European conference of public communicaton.
On 17 October, the corporate audiovisual industry meeting, "Gala Cannes Corporate Média et TV Adwards", will be held at Palm Beach in Cannes.
On 13 November, you can attend the "Forum Digital Média" (Digital Media Forum) at l'Eurosites George V in Paris.
The fair for event specialists, "Heavent Paris", takes place at the Porte de Versailles in Paris from 15 to 17 November.
"Eurobest", is the European creativity festival which can be attended in Lisbon in Portugal from 4 to 6 December.
---
Other articles :
---
---