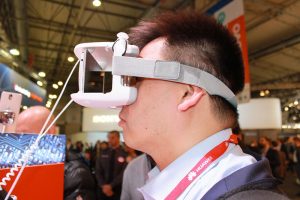 Virtual reality – This new marketing eldorado was the theme for the conference organised at the CFJ de Paris (Centre de Formation des Journalistes). During the last 12 months, the little world of communication strategists has been set abuzz by this new trend. By 2025, the virtual reality market could well reach 110 billion dollars and overtake television. But what exactly is the situation in France for companies that invest in this significant new marketing trend?
Thanks to virtual reality, a tourist can visit the country where he is planning to travel while still at his travel agent; and consumers can do their shopping in a supermarket without getting up from the sofa. Tourism, business, services, industry, every sector has a reason to utilise virtual reality, as illustrated by these examples.
Trying is adopting
The Tesco Group has conceived a virtual supermarket for their clients. Over and above the publicity stunt aspect, the British brand is seeking to analyse customer behaviour in regard to Tesco's shop layout. This idea was used in France by the Pôle de Compétitivité des Industries et du Commerce de Lille (PICOM) who simulated interior shop design to attract customers and optimise sales.
Virtual reality reassures. The Cuisine Raison network allowed customers to visit their new kitchen layout. This glimpse, made possible by the Rift oculus, proved to be enough to open the buying floodgates.
Initiating the public in virtual reality
The blinkers have also been removed in the tourist industry. Club Med has produced four videos on travel destinations. The video's summer weather gives a glimpse of the next holiday season, and the surprise effect is replaced by trust.
And when it doesn't reassure, virtual reality appeals to commitment. Coyote, famous for its radar detector, has opened an ephemeral boutique. Inside, visitors can watch the film Coyote 360, which familiarises them with virtual reality's functions. An experience that visitors can repeat at home with Coyote's monogrammed cardboard given to them by the company.
Xerox has also tried to familiarise its customers with the digital world in gathering all the company's complementary and innovative solutions in one showroom.
50 million headsets in 2020
The possibilities of virtual reality, however, have a double edge. A company or business must reckon with between 5,000 and 10,000 euros for a project. An output which is quickly repaid in view of marketing's impact. In 2016, it is estimated that 1 million headsets will be used in the USA. In 2020, this figure will reach 50 million. Adopted by geeks and video gamers, virtual reality has conquered marketers who are singing its praises to promote brand products and images in the digital communication universe.
Appearing with great pomp and ceremony at the Barcelona Fair, the VR headsets support an infinite number of applications. Without wanting to dampen the prevailing optimism, 53,8% of the French questioned on its usage feared eye strain, induced by wearing the headset; and 28,2% were afraid that they might be cut off from reality. In 2016, virtual reality must be more convincing to genuinely become the new digital marketing eldorado.
---
Other articles:
---
---