Presentation of MGI's Alphajet B1+ and the innovations from OKI at Drupa 2016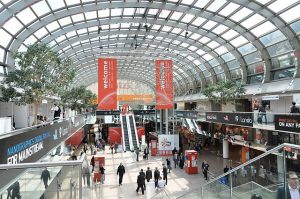 Drupa 2016 takes place from 31 May to 10 June in Düsseldorf in Germany. It is the principal fair devoted to printing and the graphic arts, encompassing nearly 1,820 exhibitors from 54 countries. The fair presents innovations in the fields of graphic printing for multimedia and, this year, will unveil MGI's Alphajet B1+ and the new innovations proposed by OKI.
Presentation of the Alphajet B1+ from MGI
At Drupa 2016, MGI presents its new Alphajet B1+, a digital press equipped with a module dedicated to electronic printing. As its name suggests, this digital press prints up to the format B1+ (75 x 120 cm). It is equipped with the latest MGI generation printing motor, and uses the very latest MGI inkjet technology with 4 to 8 UV colours. This piece of innovative equipment represents the future generation in the field of printing. A hybrid digital press that foresees the outstanding innovations to come.
Innovative OKI presents new printers
The Pro6410 NeonColor enables printing of bright neon colours
OKI's new digital printer Pro6410 NeonColor, allows the printing of pink, blue and yellow neon colours. Destined for short runs, this printer gives a personalised and dazzling touch to different company advertising supports. It prints A6 to A4 formats and can also print banners with a maximum length of 1,32 m, as well as weights up to 250 gsm.
Pro7411WT and Pro9420WT for a dazzling white
OKI also presents two new white toner printers: the Pro7411WT and the Pro9420WT. They both allow white printing onto dark backgrounds, diverse advertising supports and promotional T-shirts. The objective is to produce a unique company flair and immediately distinguishable objects. The Pro7411WT printer can print on A4 supports and a paper weight up to 250 gsm. The Pro9420WT, on the other hand, prints on supports up to SRA3 and weights up to 300 gsm. These two models also print banners extending to 1,32 m.
Brilliant prints with the Pro9541
The five-colour printer Pro9541 enables printing in the four traditional colours (CMJN) as well as a fifth spot colour: in white or clear gloss. An interesting diversity for printing supports of different media. Gloss printing on very bright colours offers the possibilities of reliefs on supported and personalised formats for companies and businesses. In the same vein, the five colour Pro9542 printer offers the CMJN colour spectrum as well as a white of very high density. These two printer models are intended for A3 formatted supports.
ColorPainter printers for large formats
During the Drupa fair, OKI presents an entire range of printers, the ColorPainters, dedicated to the printing of large formats. These four, six and eight colour printers enable printing on different supports such as banners, wallpaper and advertising objects. They can also be adapted to different materials, textiles, papers and others. The objective is to respond to important industry printing needs.
To visit MGI's new printers, rendez-vous at the D21 stand in hall 5.
To keep up to date with OKI's innovations, come to the B21 stand B21 in hall 5.
---
Other articles:
---
---