Even more innovations for Drupa 2016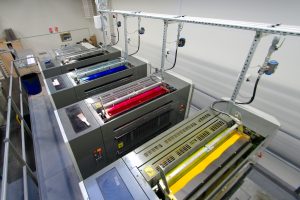 The next edition of the Drupa trade fair will open on 31 May and continue until 10 June. This will be the opportunity for professionals to focus on the latest technologies, especially in the graphic and industrial printing sector. As is the case every year, the trade fair will highlight numerous innovations.
Inkjet printing, again and forever
According to the report published on the future of inkjet printing, global growth prospects for this technology look very promising from now until 2021.
Indeed, this technique is currently developing in all the world's regions and offers numerous advantages, particularly financial. It should be noted that the ink market is also very lucrative for cartridge manufacturers and distributors.
Furthermore, this technique is now well adapted for the printing of books, newspapers and labels. It is also in full development for textile and 3D printing, and continues its progress in the packaging sector.
Optimised quality
The Japanese constructor Furtec will present a preview of its printing quality control system using easy to install and adaptable cameras. This innovation enables quality improvement, process optimisation and a reduction of material loss.
Nanotechnologies support production
In the hi-tech gilding sector, the Landa company has launched nano-metallography, an expert process that improves the results of metallisation, reducing the cost by half compared to the classic method. Landa have also announced a digital printing press for flexible packaging.
Colours in the Cloud
The Pantone company has announced that from now on it will provide a secure, online repository for its proprietary colours.
It adds that its Cloud-based system facilitates storage and especially sharing colour libraries for the entire supply chain. These new processes are also beneficial for the optimisation of paint stocks.
Drupa: trade fair auction?
The famous Kodak company will be present at the trade fair and is proposing a special sale of its Prosper inkjet printer division. The brand will also introduce its latest inkjet technology for printing, Kodak UltraStream, which guarantees distinctly improved performances.
An exhibition for major groups
At the German trade fair, the Komori company will be exhibiting a new range of finishing techniques, die cutting presses and guillotines as well as a machine capable of duplex printing without flipping the sheet. The company will will also unveil a series of consumables and services destined to develop printers' productivity and printing professions.
The collaboration of Komori and Landa will enable the two companies to invest in the future of nanotechnologies.
Packaging and labels sector
Awaiting the Drupa 2016 trade fair with a great deal of interest, the Xeikon company will present its new Fusion technology, a complete and automated process of packaging and labels.
A number of other innovations will also be introduced at the trade fair, attesting to its leading position as global innovator in the printing sector.
The publishing company Esko will introduce its new software and equipment for printing packages, labels and signage.
---
Other articles :
---
---