Everything you always wanted to know about digital marketing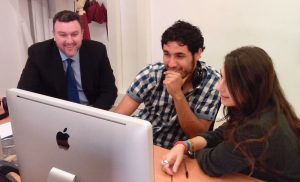 The MOOC online courses are riding high on the popularity wave, and when digital marketing is concerned, it concerns us as well. Whether you're a marketing specialist or not, you only need to have access to internet to enroll in an online course that evaluates all the trends and practices of digital marketing. The course is open to all comers and only requires a little personal investment to acquire a better knowledge of the strong points of this new approach to marketing.
Five weeks course
Officially beginning on 17 May this year, the course will last five weeks, but the videos and associated exercises will remain accessible much longer. The main advantage of a MOOC, is that it can be adapted to anyone's availability. Irrespective of whether you are taking the course to receive a diploma, or are only interested in certain aspects of digital marketing, the choice remains entirely up to you. The course is free of charge and you have the right to use it as you wish. Exchanges between course participants are particularly encouraged, as the learning process is often facilitated with like-minded. However this is not at all mandatory: It's up to you, and you alone to decide.
Marketing in all its forms
This MOOC course is based on the support of many specialist particpants, such as company heads, real corporate practices, and is intended to encompass today's world of digital marketing… and why not tomorrow's.
The course maintains simple objectives as its goal: to understand how and why marketing has evolved in the digital era, to evaluate digital marketing's significant development stages: attract, retain, convert and analyse how big data favours the personalisation of digital marketing.
Increasingly more detailed, the courses are structured around the digital transformation of marketing, essential for businesses and companies, by utilising existing e-commerce tools (email, social networks, marketing tests, referencing), as well as online reputation or design thinking, to name but a few; and let's not forget CRM marketing, nor big data and personalisation. These five weeks include, therefore, many elements, and not only theoretical: real business situations are proposed for participants. The basic idea is for the course to be as tangible as possible, and genuinely useful for participants.
Practical points
To correctly follow the full Unow course, it is recommended that you devote two hours per week, with the understanding that new lessons will be put online on Mondays starting from 23 May. The best way to follow the entire course is to devote a specific time of day to this activity, according to your schedule. Too many people enroll in MOOC courses without actually completing them. By passing the online exam (cost: 29 €) at the end of the course, you will be eligible for a certificate bearing your name, proof of your participation in this digital marketing MOOC and your grasp of these studies. It is not however compulsory: the training course may be costless, but the benefits that you will gain from it are much more rewarding.
---
Other articles: 
---
---