What are business collaboration tools and what is their purpose?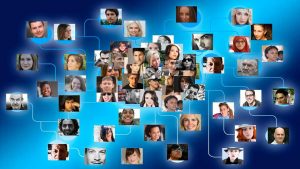 In the prolongation of our article on the digital transformation of companies, here is a little overview of the famous "collaboration tools". "Collaboration tools" are the platforms, software and programmes that enable many collaborators to work or communicate together. Tools such as Slack, Sharepoint, Salesforces Chatter, Google Drive and so on could be listed here also.
The last-named can be classed into two big families:
• Sharing tools: split screen, agenda sharing, file sharing
• Communication tools: forum, email alternatives, conferences, social networks
Sharing tools
Today, sharing tools are the most widespread. You might even use certain of them already, like agenda sharing. Extremely practical, these tools let you know your collaborators' availability. They are often used in managing meeting rooms as well, and are a very good time saver: no need to have someone managing schedules!
File-sharing works by the same principle. Extremely efficient, it makes it possible to work in groups on the same document, dealing effortlessly with modifications and different versions. This also helps avoid duplicate files, and the latest version is always at hand on the platform, accessible everywhere thanks to the internet connection. You can even sign documents electronically, thus saving paper and long signature circuits. All this of course guarantees some extremely welcome economic savings!
Finally, there are also screen sharing solutions. These are very useful and curb travel expenses, while offering solutions such as direct screen sharing with one or several people separated physically. You can also exchange, comment on, or make modifications directly to documents with your partners. Some of these solutions are free, so why not use them?
Communication tools
Company communication tools are currently undergoing the most significant growth. In first place are the social networks, since they enable the creation of a company dynamic, thanks to their constant visibility. Employees can stay informed about company life in real time, thus stimulating a sense of belonging, and most importantly: they can also contribute!
In big companies, alternative tools to emails, and especially chatting are increasingly solicited. They are used for quick exchanges, like SMS, where the use of a telephone is not possible, or by personal convenience. This eliminates mail replies like "OK", "Done", etc, which, of course, overload users' inboxes.
Other interesting tools are web conference solutions or videoconferencing. More developed than simple screen sharing, these tools create veritable "virtual meetings", and bring together different people (collaborators, customers, suppliers) who would otherwise remain separated. They offer a substantial gain in time and transport costs.
Finally, it is also possible to establish a company forum, destined for exchanges with collaborators. Very often utilised in IT services companies, it is more likely destined for larger groups or companies with a significant number of employees (more than 250 to 500). The fact is, for a forum to work well, it is crucial that it be regularly consulted and that responses are posted in the same manner as a social network. Certain themes lend themselves extremely well to a company forum set up: mutual assistance on a topic (e.g. marketing, classified ads etc).
In conclusion, there are quite a range of collaborative tools that can be adapted depending on company size and culture. Without forgetting of course change management!
---
Other articles : 
---
---