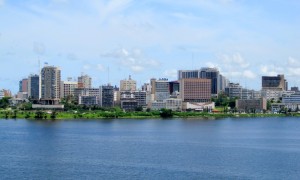 ASCOM is the acronym for "As de la Communication et du Marketing" (Communications and marketing champion)
This event was inaugurated in 2007 and attracts communication, marketing and public relations professionals.
The fourth edition of this meeting will take place in Abidjan, Ivory Coast on 7 and 8 April 2016.
What will this year's edition deal with?
Michel Russel Lohoré, ASCOM's promoter, presented the broad guidelines of this year's programme for journalists from the four corners of the globe at a video conference for the press on 6 February.
It should be noted that Michel Russel Lohoré is himself a journalist and member of Lille's press club. He holds marketing and communications diplomas, and has also distinguished himself in the field of public relations.
The overall theme for the ASCOM 2016 is "Boosting emergence with a communication lever". According to its organiser, this event initiated by ASCOM, is an excellent meeting place and plays a pivotal role in mobilising communication professionals in the economic reconstruction of Ivory Coast.
Indeed, communication and marketing have become indispensable business aspects. Moreover, this has been perceived by the entire management core. ASCOM provides information on the latest technical communication innovations, and above all, on the excellent marketing opportunities on offer in a world more and more focused and open towards emerging economies and new countries.
This year's innovations
Although not really an innovation (one doesn't change a winning formula), this year's event, however, will be multi-faceted: an exhibition (ASCOM Expo), conferences and workshops (ASCOM Forum) and an awards ceremony (ASCOM Awards); it is at this event that communication professionals can discover the businesses that have developed significant opportunities and winning communication strategies.
Under the banner of the ASCOM Award, around twenty of the most talented and active personalities, professionals and companies will be deservedly honoured for their development of communications in Ivory coast and Africa.
An African event in Ivory Coast
It is important to note that this event takes place in the economic capital of Ivory Coast, Abidjan, where the largest concentration of the country's media is to be found.
The organiser of ASCOM 2016 loudly and proudly displays the colors of this country and this city, stating that "at a time when the Ivory Coast, on the back of a remarkable dynamic, is returning to its former glory on the list of the most reformist countries and is growing at an outstanding rate, the 2016 edition of the ASCOMs are intended as an illustration of this rise in power".
Abidjan will also play host to several other international events, such as the Urban dance festival, and the International press cartoons and comic book festival in Ivory Coast, to name but a few.
Held at l'Espace Crrae- Unoa au Plateau, Abidjan possesses all the necessary infrastructures for the event, and the city has also all the facilities needed to accommodate and transport exhibitors and visitors alike.
Themed "Public and press relations in a successful business concept", last year's edition was a great success, and everything points to the fact that this year's event will receive the same praise.
---
---